About Us
Christ. Family. Community.
Trinity of Fairview is a church, located right outside of Asheville, North Carolina. Comprised of a wonderful mix of ages, cultures, gifts, and talents, we believe that church should be relevant to all people of all ages and all walks of life who join with us. Our sincere desire is that Trinity isn't just a place, but within its walls you find people to call family–your home away from home.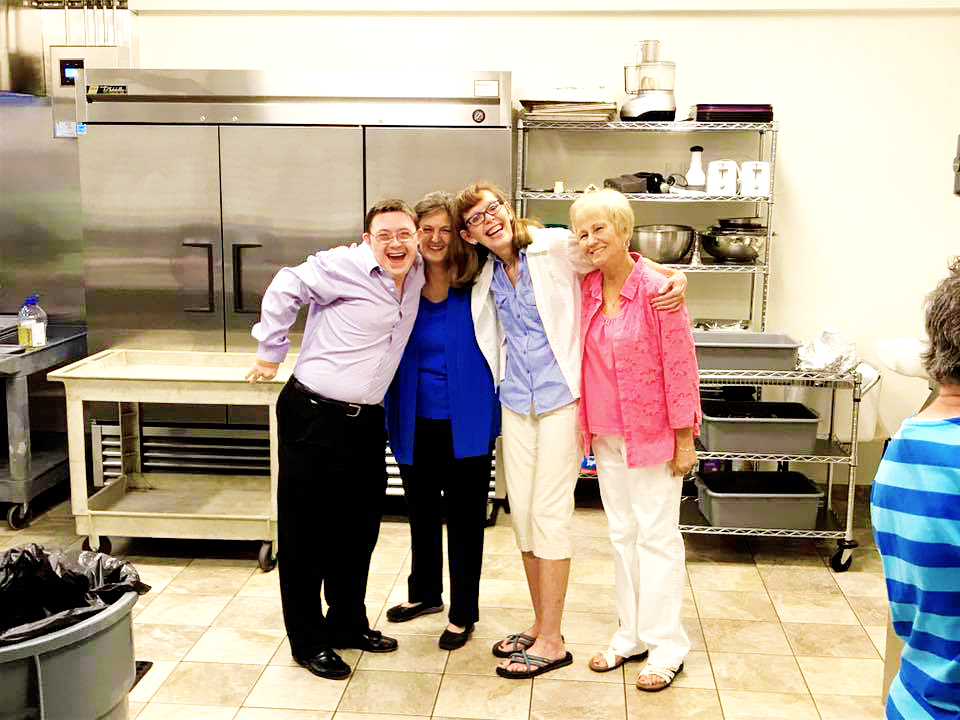 "We are a church that loves God, loves others, & creates disciples through transformational relationships."
More on Our Mission
We work daily to love, give, and walk by faith in order to see the love of Christ extend to all those we can reach and touch with His love. Ultimately, we seek to love and serve our community, our nation, and the world in the same vein as that of Jesus Christ.
Loving Christ with our entire being and holding his Word close is our driving influence.
It's no small coincidence that loving God is closely followed by loving others. These elements together are what lay the foundation for how we conduct the rest of our lives. They inspire genuine worship, dynamic spiritual growth, and a life reflective of the two greatest commandments: "Love the Lord your God with all your heart, with all your soul, with all your mind, and with all your strength. The second is, Love your neighbor as yourself. There is no other command greater than these." (CSB, Mark 12:30-31) Such is the reason that this is our starting point–the basis for everything that comes next.
We're not a congregation. We're family. From the minute you walk through the doors, you're a part of our family too. We believe in relationships built across experiences and generations. These tie us together in unconditional love reflective of Christ and mutual support indicative of the familial bond. Everyone has something vital to contribute to the family of God. Every individual makes a difference. That includes you!
The relationships we build uniquely transform and define us, shaping us each into the varied and vital disciples of Christ who He calls to share his great love and grace with throughout the world. Whether out in the local community or halfway around the world, serving God means serving others. "Just as the body without the spirit is dead, so also faith without works is dead." (CSB, James 2:26).
Relevant, practical, gospel-centered teaching and dynamic worship
Trinity of Fairview is a self-governing body. First and foremost, we believe in the priesthood of the believer. This simply means that anyone who accepts Jesus Christ as his or her personal savior does not need a mediator to be in a relationship with God. The individual can maintain an intimate and personal relationship with God because of what Jesus did for us on the cross.
We believe all Scripture, both Old and New Testaments, was given by inspiration of God as the writers were moved by the Holy Spirit to write the very words of God, and that these Scriptures are the only rule of faith and practice. (2 Timothy 3:16, 2 Peter 1:20-21)
We believe in the one true God who has revealed Himself as existing in three persons; Father, Son and Holy Spirit; distinguishable but indivisible. (Matthew 28:19, Luke 3:21-22)
We believe the human race was originally created by God in His image, until sin entered by disobedience and rebellion and left humanity totally incapable of saving itself. (Romans 5:12, Genesis 1:27)
We believe that Jesus Christ is the Son of God, conceived of the Holy Spirit, born of the virgin Mary, very God and very man. (Luke 1:26-35, John 1:1,14,18, Isaiah 7:14, Isaiah 9:6)
We believe Christ our Savior died for our sins, was buried and rose again the third day according to the Scriptures, and appeared to His disciples. (1 Corinthians 15:1-8, Romans 4:25)
We believe in the bodily ascension of Jesus to heaven, His exaltation as Lord to the right hand of the Father, and His literal, physical return the second time for the Church. (John 14:2-3, 1 Thessalonians 4:13-18)
We believe in the salvation of sinners by grace through repentance and faith in the perfect and sufficient work of Christ upon the cross by which we obtain the remission of sins through His shed blood. (Ephesians 2:8-9, Hebrews 9:12-14, Romans 5:11)
We believe that water baptism is the obedient response to the command of the Lord. (Matthew 28:19, Acts 2:38, Acts 19:1-6)
We believe in the baptism of the Holy Spirit, the promise of the Father for the empowering of the Christian and its accompanying gifts and fruits.
(Acts 2:1-4, Acts 8:14-17, 10:44-46, Galatians 3:14)
We believe the church is the body of Christ and that Christ gave to the church apostles, prophets, evangelists, pastors, and teachers. (Ephesians 4:11-13)
We believe in the resurrection of the dead, eternal judgement, and life everlasting. (John 3:16, 5:24-27, Mark 9:43-48, 2 Thessalonians 1:9, Revelation 20:11-15)
What does it mean to be Christian?
Christianity doesn't mean being perfect. It's God's perfect love despite imperfection.
Both pastors and staff at Trinity aim to serve the Lord, the church, and the community with all that we have. We strive earnestly to follow his direction and to reflect the love of Christ in all that we do.